Call us!
We speak perfect English!
WhatsApp Main Number 0652333817
App technician Chakib 0657077198
WhatsApp technician Aad / Workshop 0654662190
Read Julie O.'s review of A-keys on Yelp
Office address
Loosduinseweg 721
2571AM Den Haag
IBAN NL30TRIO0254723632
Chamber of Commerce registr.: 27255707

Please use the above link
to check our credentials
with the Chamber of Commerce
VAT #: 1401.93.765.B.01
Add us to your contacts
A-keys Den Haag
Faster than any other service in The Hague!
24/7 lockout service
Locked out? No problem!
Replacement lock, cylinder or key? No problem!
We will be with you in 30 minutes …
Specialist Locksmith Services for Expats in The Hague
And we speak excellent English!
Lockout? We can help!
Have you locked yourself out (lockout) and do you need a reliable and affordable Locksmith in The Hague / Den Haag? Looking for a service that doesn't overcharge or damage your lock unnecessarily? You have come to the right place!
Our workshop in the center of The Hague is open 24 hours a day, 7 days a week (24/7). Our technicians are always ready. We're available for any type of emergency in any kind of weather:
24/7 Lockout Locked out Emergency service
Rapid response to Burglary
Opening all types and brands of locks
Opening all types and brands of safes and strongboxes
Repair & replacement of locks, keys, cylinders
Broken or jammed locks and cylinders
Keys copied after hours
Left keys in car …
Improving home security
Securing business premises
Locked out? Don't panic!
Have you lost your keys or forgotten them inside? Has the door slammed on you? Is your lock broken, jammed or not working properly? You can rely on us to assist you quickly and professionally at any time of day or night, in all weather, in the weekends and holidays. Our technicians are highly qualified! Incidentally, they really enjoy their work, especially a technical challenge! We will quickly open any door and/or replace locks, cylinders or keys. Moreover, we carry out many repairs on site and make appointments or take orders quickly and efficiently. Additionally, all our technicians speak English. Furthermore, we take very good care of our employees so they are happy and focused on their job!
How long will it take for the technician to arrive?
In case of lockout our technician can get to you in 30 minutes or less! Need us to come immediately? Call us direct!
Not in a hurry? Just making an inquiry? Please use our e-mail
We provide superior and very fast service and no charge for call-outs!
We offer crystal clear prices and fees. No extra charges for nights, weekends or holidays! You can pay cash or use your credit card. In case our technicians fail to open your door or repair a lock, we will not charge you!
Of course you can pay by credit card!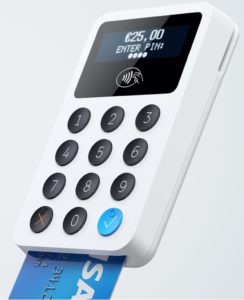 Lock-outs and broken locks do not occur when it is convenient, so we usually don't carry a lot of spare cash just in case. When customers call us they are often concerned about payment. Don't worry: our technicians are all equipped with iZettle Card terminals (PIN readers). You can use practically any credit card to make a payment. This cuts down on unnecessary waiting or visits to an ATM machine. When the work is finished to your satisfaction the technician will hand you the Card reader and all you need to do is insert your credit card (Mastercard, Maestro, Visacard, Amex and all local banks accepted) and you enter your 4 digit PIN code. After this, you may enter your e-mail address or telephone number to receive a digital receipt. This receipt is your guarantee as well as proof of payment.
5 year, 100% warranty on all products and services!
Our technicians are certified professional locksmiths and will expertly open all doors without unduly damaging them.* The standard fee for door opening without damage, replacements or repairs is ± € 85.- including VAT. (Special discounts — up to 15% — in some areas of Den Haag). When making an appointment, please always ask for an estimate to avoid surprises!
A-keys | Slotenmaker Den Haag (SDH) is an all-round locksmith company and we do more than just open doors and replace cylinders. We can also place new locks and cylinders, bars on windows, design a variety of security measures and construct them ourselves (e.g. bullet-proof doors). With the right equipment and our expertise we can significantly improve your security and protect you and your property from any risk or threat: burglary, break-in, theft and so on.
Ask for an estimate or make an appointment: 0652333817
Due to the rising number of burglaries, break-ins, robberies and crimes in The Hague we get a lot of questions about prevention and security. Are you aware that placing new security locks and cylinders with the SKG*** certificate can significantly reduce the chances of a break-in by almost 90%?
We provide a wide range of locks and cylinders with the SKG*** security certificate and know how to fit these materials professionally to make sure that you and your valuables are safe.
Would you like to improve home security or the security of your offices? Follow this link to find out more about measures you can take to prevent or minimize the risk of burglary or theft. In addition, make an appointment with one of our experts for some professional advice on security. Would you like to know what the possibilities are in your situation? Ask for a completely free evaluation of your property:
A-keys | Slotenmaker Den Haag/Locksmith The Hague
Open 7 days a week, 24/7
Fastest service in case of lockout!
Don't panic! We will be with you within 30 minutes!
Send us a (text) message: 0652333817
Speak to us directly: 0652333817
Contact us using

whatsapp

…
Use our contact form to send photos or make an appointment
Onze linkpartners:
Baaoe.nl is een site gericht op bouw, doe-het-zelven en verbouwen.